Biker Patches
Christian, Patriotic, Funny, and Veteran Biker Vest Patches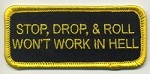 These patches are certain to accessorize your vest without covering your Colors. Designed with the Christian Biker in mind, these patches with definitely start a conversation about Jesus and the Power of the Cross.
We also offer Patriotic, Military, and Veteran patches.
Some of the patches we carry do not fall into these categories, but they are clean and funny.
We can also arrange custom orders. Let us know if you need Officer patches.